In 1967, a small group of enthusiasts who met weekly to sing in the Masons' Arms decided to start a club to attract traditional performers to Cornwall. The first recorded club night of the Bodmin Traditional Folk Club was on 31st May 1968 in an upper room at The Barley Sheaf.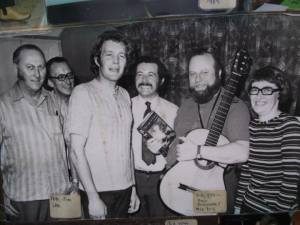 Since that night, the club has met almost every single Friday night, welcoming a range of singers, musicians and occasional dancers from Britain and beyond at both guest nights and open houses.
The club has been housed at the Mason's Arms, The Barley Sheaf, The Garland Ox, Syd's Bar, Bodmin Band & Social Club.  Our current venue is upstairs at St Petroc's Parish Centre, Bodmin, opposite St Petroc's Church.
Bodmin Folk Club is a members club, offering discounts on guest and open house nights.
Full details on membership are here.