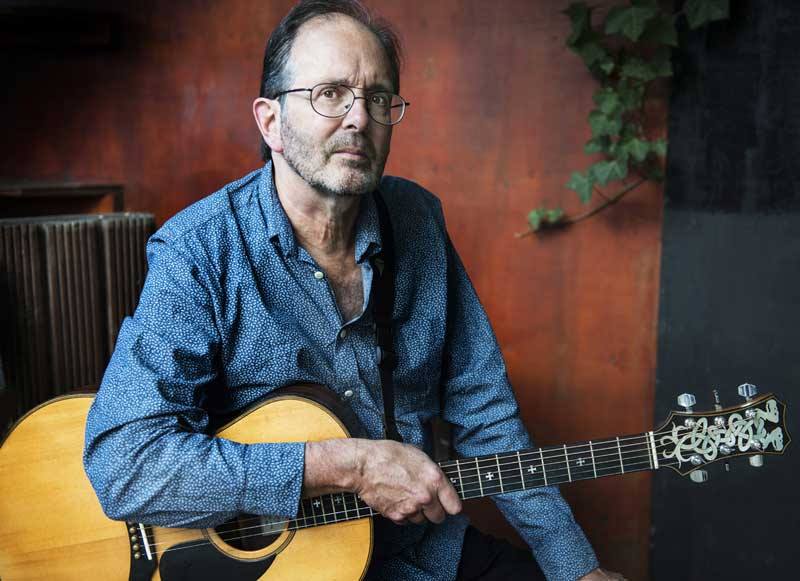 To his considerable surprise, Ian Anderson is doing solo gigs for the first time since the early 1970s. He's long-since naturally combined most of the musical elements of his 50 year career in old time English psych folk blues world twangery into a recognisably individual whole.
Caught up in the late 1960s blues boom, mentored by Alexis Korner and supported by radio DJs like John Peel, his first proper album Stereo Death Breakdown came out on Liberty/UA in 1969 to coincide with a national tour on which Ian Anderson's Country Blues Band supported blues legend Mississippi Fred McDowell. But soon, performing regularly in key venues of the day like London's Les Cousins and the Bristol Troubadour, he took a sideways swerve into what now gets called 'psych folk'. He released 4 solo albums of original song material, 3 of them on the legendary Village Thing label, and appeared at the very first Glastonbury festival.
By the mid-'70s he'd returned to folk, blues & roots material, but with his own accent. His duo Hot Vultures with Maggie Holland (3 albums) toured extensively internationally, before joing with English traditional musicians in The English Country Blues Band (2 albums) and big band Tiger Moth (2 albums). Then, from the end of the '80s, he took a long break from live performances while he concentrated on broadcasting, producing records by world music artists, and other music-related activities – other than doing occasional live things "for fun and no money."
Everything changed again in the 21st century. Following a command performance for folk legend Shirley Collins, the Blue Blokes 3 (an impromptu trio with 3 Mustaphas 3's Ben Mandelson and PiL's Lu Edmonds) made an album and toured nationally. After this he and Mandelson continued recording and live dates as the duo The False Beards, and in 2016 Hot Vultures re-united for a successful summer tour.
Re-enthused, in early 2017 Ian decided to try a few solo gigs again, "to scare myself." They actually turned out rather well, so it's back to first principles, in recording too. "I'm now older than all those ancient singers were who inspired me when I was starting out," he says. "So I'd better get on with enjoying it while I can!"
Members £6.50 Non-members £8.00  | BOOK NOW |