Join us for our #BodminFolk50 Summer Season with our guest artists, Carolyn Robson & Iris Bishop, Pete Coe, Nick Dow, Rob Murch & Michelle Holding, Mike & Solveig + Jim McAteer and Sandra Kerr, for our Members Showcase with our current Chairman, Malcolm Pinch, and for our Open Houses on all the Fridays in-between.

June 1 | Carolyn Robson & Iris Bishop
Members £6.50, non-members £8.00 | TICKETS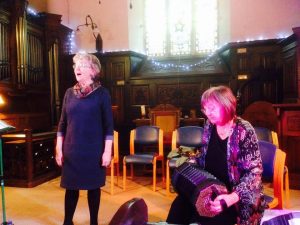 Carolyn specialises in the traditional songs and dances of her native Northumberland.  and Scotland as well as from other parts of the British Isles. Carolyn has appeared in several groupings, including the the trio Dempsey Robson Tweed with Kevin Dempsey and Karen Tweed, and with the harmony group Craig Morgan Robson with Moira Craig and the late Sarah Morgan.
In 1981, Carolyn made her first album, 'Banks of Tyne' on the Dingle label (now re-issued on CD) and can be heard singing on Kathryn Tickell's CD 'The Northumberland Collection'. Her recent albums, 'All the fine young men' and 'Dawn Chorus' were produced by her own company, Reiver Records.
Her new pairing with the brilliant concertina player Iris Bishop guarantees a memorable evening of songs and music.
June 15 | Pete Coe
Members £8.00. non-members £9.50 | TICKETS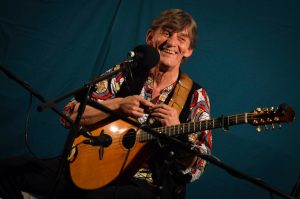 Pete has been a professional musician since 1971, playing at festivals concerts, clubs, dances & schools throughout Britain, Europe, Asia, New Zealand & USA . During the '70s he toured and recorded with Chris Coe, was a member of the legendary New Victory Band & with Nic Jones, Tony Rose and again, Chris Coe, he was a member of Bandoggs.
In the late '80s and early '90s he toured and recorded with Red Shift but since 1985 he's mainly worked as a soloist & earned an enviable reputation.
His strong, distinctive voice is enhanced by his instrumental versatility, the ringing strings of his bouzouki, the sweet chords of his mountain dulcimer, the plaintive frailing banjo & the pulsing reeds of his melodeon. He's also a country dance caller, creator & band musician. He sings, plays & step dances, sometimes all at once!
"It may be easier and quicker to list the talents that Pete Coe doesn't have" – Andy Kershaw, BBC.
June 22 | Nick Dow
Members £8.00, non-members £9.50 | TICKETS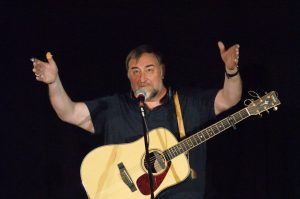 A superb singer and guitarist, Nick has been performing and researching English and Irish traditional songs for over forty years – taught and encouraged by traditional singers from Dorset and Lancashire as well as traveller singers.  He also builds and restores gypsy wagons.
An acknowledged expert on West Country folk song, Nick, together with his wife Mally, has collected over 300 songs in Dorset, and discovered singers in Lancashire & Essex.
He has also made recordings of gypsy singers, some of which have been included on Topic Records 'The Voice Of The People' series.
July 6 | Members Showcase: Malcolm Pinch
Members £4.00. non-members £5.00 | TICKETS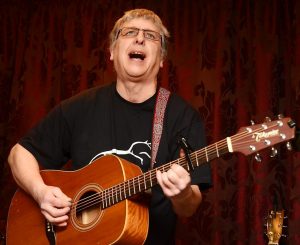 Malcolm
is the Chairman of
Bodmin Folk Club
and a regular at
Dreamers Folk
, clubs where he has performed well over 250 of his own songs.
Described as 'a cross between Leonard Cohen and Pam Ayres' his songs have been described as 'deeply cynical', as well as (mostly) funny.
July 20 | Rob Murch & Michelle Holding
Members £6.50, non-members £8.00 | TICKETS

Well-loved by Bodmin Folk Club audiences as a member of Moor Music and the Dartmoor Pixie Band, Rob Murch is a leading figure in the playing of English fingerstyle banjo – a style once popular at the turn of the 20th century and now rarely seen. Michelle Holding is a fine guitar, concertina and banjo player who sings traditional and contemporary British and American songs. 
www.michelleholding.com
 July 27 |Mike & Solveig + Jim McAteer
Members £6.50 Non-members £8.00 | TICKETS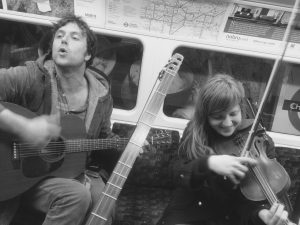 Mike & Solveig's music can be characterised as experimental folk. Mike Hastings (from Glasgow, Scotland) sings and plays guitar, banjo and strumstick, and Solveig Askvik (from Bergen, Norway) sings and plays the fiddle and glockenspiel. They perform original songs and instrumentals reminiscent of The Incredible String Band, Penguin Cafe Orchestra, Moondog, Syd Barrett, Bert Jansch and Ivor Cutler.
Best-known as a member of the psychedelic rock band The Trembling Bells, Mike also plays with Mike Heron (The incredible String Band) and Will Oldham (AKA Bonnie Price Billy). Mike & Solveig are both experienced musicians who have been an integral part of Glasgow's thriving music scene for the last 17 years or so.
Touring with Mike & Solveig, Jim McAteer is a superb guitarist and singer from Glasgow whose shows have included support slots for Martin Carthy, Wizz Jones, Davey Graham, Robin Williamson, Mike Heron and John Renbourn. He runs a number of weekly open mics in Glasgow and promotes and comperes many live gigs – showcasing local unsigned musical talent as well as international touring acts.
August 10 | Sandra Kerr
Members £7.00 Non-members £8.50 | TICKETS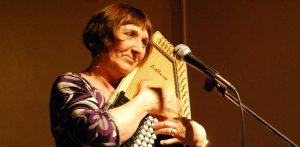 Sandra Kerr has had a long and distinguished career in folk music since her days with Ewan MacColl's Critics Group in the 1960s.
Well-loved for her singing and writing on the iconic TV show Bagpuss, Sandra directs folk choirs and is greatly respected as a tutor of folk arts. She is a multi-instrumentalist, playing guitar, dulcimer, autoharp and the English concertina. She is popular as a tutor on the latter instrument and has taught regularly at concertina gatherings including the 'Swaledale Squeeze' and 'Concertinas At Witney', and twice at the National Folk Festival Easter School in Canberra.