In 1967, a small group of enthusiasts who met weekly to sing in the Masons' Arms decided to start a club to attract traditional performers to Cornwall. The first recorded club night of the Bodmin Traditional Folk Club was on 31st May 1968 in an upper room at The Barley Sheaf.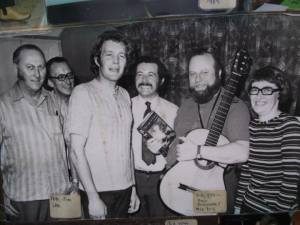 Since that night, the club has met almost every single Friday night, welcoming a range of singers, musicians and occasional dancers from Britain and beyond at both guest nights and opeHin houses.
The club has been housed at the Mason's Arms, The Barley Sheaf, The Garland Ox, Syd's Bar, Bodmin Band & Social Club and St Petroc's Parish Centre. Our current venue is The Old Library, 10 Lower Bore Street, Bodmin, PL31 2JX.
Here's the year-by-year history assembled from the minutes of the AGMs, the Committee Meetings and as recollected by members over the years . . . . the very latest goings on are in the Club on a Friday night, in the regular members emails, and over on Facebook.
1968
The very first club night took place on 31st May 1968 upstairs at the Barley Sheaf, Bodmin. Vic Legg and Roger Hancock recalled the first guest as Terry Gould, and the first song as The Jug of Punch, still popular 50 years later! Mo Keast remembers being there . . . we're hopeful of a few more pictures!
Terry Masterson was the second guest, and the first Committee Meeting was held on Wednesday 7th August with Vic Legg and John Heap elected as the first officials – Chairman and Secretary respectively. Club Rules were prepared by Vic and John; Lar Cann approached Cyril Tawney as a guest for October, and Connie and Mike Kestle were invited for August.
The Performing Rights Society were advised that:
"Traditional songs were performed at the club and that the club would not be applying for a license to perform copyright music."
After just three months, the possibility of another club room was discussed as the landlord had not been so encouraging; a couple of months later, an 8:00 start was encouraged because of the 10:30 finish in winter.
The first Christmas Charity Night proceeds of £10 on Friday 20th December went to the Old Folks Home. Christmas cards were sent to the Tankards club, Swan Folk, Mollie and Barnstable Club and Mervyn.
1969
Club's first AGM on 15th April: a bank balance of £39. 9 shillings and 9d; membership fees remained at 5 shillings; admission for members at 2/6, non-members at 3/6 (with 4/6 on guest nights). Charity Night on May 2nd raised £12 for the Exeter Youth Club fund.
Following the visit of the Padstow Obby Oss, which caused the floor of the Barley Sheaf to flex from the dancing, the club moved to the Garland Ox in the middle of June, with guest artist Shirley Collins.
The landlord said . . .
"I'll give it 6 weeks"
A winter sing around was proposed with other clubs on a Saturday in November which was held in Buckfastleigh, and the members Christmas Party was held once again in December.
Committee members shared their opinions on any 'unknown or doubtful' guests prior to booking.
Guest hosts were offered 10/- towards their expenses. Books from the EFDSS Folkshop were on order, and Lar Cann wrote directly to Transatlantic Records for stock.
1970
By November, the acting Chairman was John in Pat Broderick's absence following an extra-ordinary meeting on the 18th May when a caretaker committee was elected. Bank balance of £187.00
As Tony Rose was to be the first guest in the new year (1971), the committee agreed that there should be a free swap or a Tony Rose record at the Christmas Party.
The name was changed to The Bodmin Traditional Folk Song Club as proposed by Ron and seconded by Vic.
1971
In April, a proposal was put forward to make a contribution of £5 to the Morris side for the purchase of costumes, and that the affiliation of the morris side to the club be put to the AGM, which was agreed.
Lar Cann proposed as a test case that as money was being offered to the Morris side a contribution be made to the purchase of a guitar case for his use . . . this was not passed.
The Club name was changed to Bodmin Traditional Folk Club.
It was agreed that something had to be be done about the noise at the bar . . .
1972
The bill for the New Year Party came to £13, not the £10 suggested, which was not considered excessive.
Ian West had taken over as Chairman, with Lar Cann continuing as secretary. Club funds stood at £101. 47 ½ p
Membership fees to be increased from 25p to 30p, with members entrance fees rising from 14p to 15p.
It was agreed that the 2 volumes of A Naval History Of Britain by G J Marcus at £5.25 be purchased, and collected by Elke Cann from the West End Book Store, Bodmin for the Cyryl Tawney Presentation.
In October, it was agreed to underwrite fees for singers performing at both Bodmin and the Ham St Club, Plymouth in view of the difficulties of Ham St.
Arrangements for a ceilidh were made in November, and it was agreed to support Lar Cann's request for money towards the installation of a telephone to aid his position as Secretary, repayable over 12 months.
1973
Vic Legg was back as Chairman for the AGM, with Lar Cann continuing as Secretary. Roger Hancock provided a report on Trigg Morris, including a successful visit to Ireland. Towersey Morris were scheduled to visit in September, and John & Sue Kirkpatrick were booked for the Christmas Party (which may have been Pete Wood).
Lar Cann explained in the committee meeting following the AGM that with the guest circuit almost extinct, more flexibility was needed in setting admission fees to cover guests coming for a single night.
A Christmas card and £1 were sent to Frank Rowe
1974
During the April AGM, concern was expressed at the low number of floor singers. Thanks were given to Vic Legg for his work as MC, Pete Marlow for looking after the door and Chris and Janet Ridley for singing regularly, and to Elke Cann for providing accommodation. Dave Burland was scheduled for the Christmas Party, and £10 was to be donated to Wadebridge's festival funds. The Committee were re-named the Working Party, and membership set at 50p, with admission 25p for members and 35p for visitors. Lars Cann and Vic Legg took on representation with the EFDSS.
Entrance fees were raised again in November to 30p and 40p.
For the Christmas Party it was felt that the emphasis should be on a party for members, not visitors, with members allowed one guest each, with tickets in advance. The Bodmin Wassailers and the Handbell Ringers were invited to perform, along with a special interval for the serving of Christmas pudding.
Bodmin Traditional Folk Club had a rather severe reputation in its early years. Guitars were known to be frowned on and woe betide you if you struck up with a contemporary song at the club room . . .
1975
By the April AGM, it was reported that there had been 34 guests in a 54 week period, with 12 of those new to the club.
Mike Harding was scheduled as the Christmas Party guest, and Vic Legg stood down as Chairman.
Trigg Morris Bagman reported that there was a strong possibility the side would be elected to the Morris Ring; theme evenings were considered a success, and Julie Goldthorpe and Angela Dooley volunteered to organise ceilidhs on behalf of the club. Jim Bassett requested fewer booked guests in order to encourage more floor singers, and the Working Party agreed to discuss the 'selection' of floor singers – and a Library.
1976
Concerns were expressed over losses in income at the March Committee Meeting, at an average of £6 per week: the structure of the 'Come All Ye' appeared to be less attractive than they should be. Changes were agreed with only one interval, less experienced singers performing early on, and a name change to 'Club Night'.
During the April AGM it was reported that the sales of pottery had raised £90 for Cornwall Festival, and other fund-raising ideas included club badges, and folk and pop concerts which Vic Legg would investigate. The BBC were scheduled to visit the club on 28th May with a view to a future recording, and it was agreed to support the EFDSS National Day of Folk.
Harvest Home was the October theme, with £5 to be spent on baked potatoes, and the BBC visited the Club.
1977
Vic Legg suggested that the MCs job could be shared during the course of the year during the AGM, but the consensus was that it be a mistake for him to avoid the main responsibility as he was the best at the job.
Donations to the Charlie Bate Fund of £20 and Blue Ribbon 'Oss Fund of £8 were proposed by Chris Ridley.
Discussions were made on the quality of singers . . . poor singing or weak material should be brought to the notice of the performer -albeit in a kindly way – and suitable steps taken . . . non-regular selection or entrancement in another musical direction . . .
Plans for the 10th Birthday Celebrations included a Saturday night ceilidh and several guests, with a budget of £100.
1978
Guests: Peter Bond, Lou Killen, Alex Atterson?, John and Sue Kirkpatrick, Graham and Eileen Pratt, Geoff & Pennie Harris, Nic Jones (highest door take of the year!), Pete Wood, Martin Simpson, Tim Laycock, Bob Fox & Stu Luckley, Bully Wee, Pete & Chris Coe, Lisa Null & Bill Shute, Peter Bellamy, Ken Langsbury, Cyril Tawney, Martin Graebe, Isca Fayre, Bob Stewart, Bob Cann, Tony Rose, the Watersons, Ron Taylor
Vic Legg was elected as Chairman at the tenth AGM, and Lar Cann continuing as Secretary; Peter Marlow was named as the new Squire of Trigg Morris, with Vic standing down
Lar Cann aired view that songs performed at the Club often bore no relationship to the tradition, and that regular singers should be aware of the Club's aims.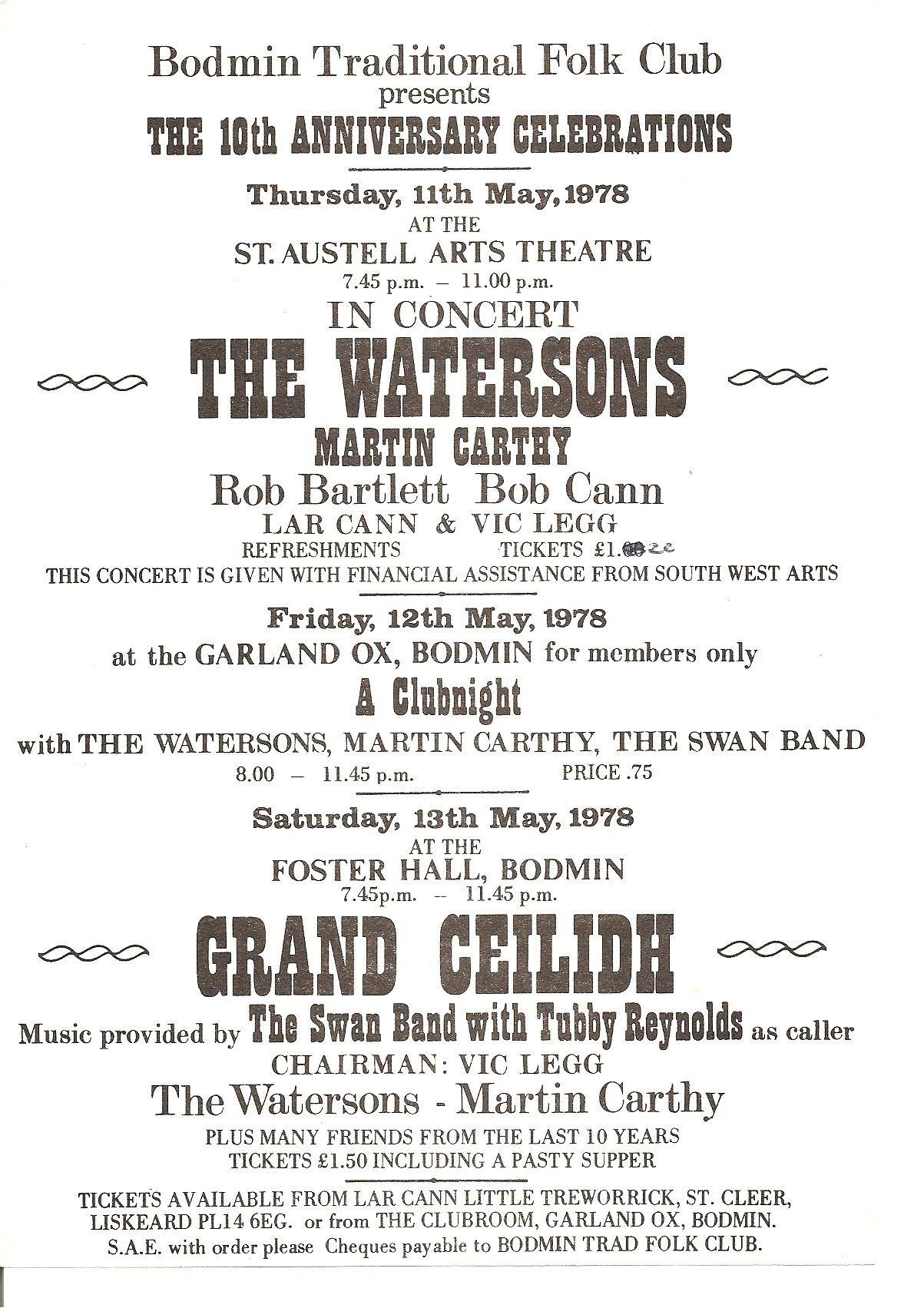 Christmas celebrations included a low key carol concert on the Friday, a Saturday Watersons concert supported by Trigg Morris, the newly formed Rapper Dancers and club singers and a ceilidh the following week.
Over the year, the committee were concerned at the drop in attendance, with low coverage in Folk News Kernow, falling revenues, and a fear the club might close . . .
1979
Members included: Mike O'Connor, Lar & Elke Cann, Chris & Janet Ridley, Roger & Carol Hancock, Vic Legg, Pete Marlow, Dave & Jeannie Blayney, Moe Keast, Jim Bassett….
Guests: Martin Wyndham-Read, Chris Foster, Tom McConville, Peter Bond, Hollinmor, Frankie Armstrong, Vin Garbutt, Joe Heaney, Tufty Swift, Andrew Franks & Mike Mann, Graham & Eileen Pratt. Martin Carthy, Nic Jones, Martin Simpson, Bob Davenport, Regal Slip, Bob Rundle, Bridget Danby, Louis Killen, John Foreman, Pete & Chris Coe, Martin Graebe, Jez & Ged, Peter Bellamy, Tim Laycock, Nic Jones, Tony Rose
Last year's Christmas celebrations had been a success, but the cost of hiring Drum Major had risen to £10 so Public Rooms could well become the main venue in the future.
At the AGM, it was agreed to hold ceilidhs in the clubroom every 6th week for a trial. A suggestion of holding Music Hall evenings was made, however Lar Cann objected on constitutional grounds.
Funds by September stood at £341.05p, and in view of the present healthy state, the idea of fund raising concerts was shelved.
Harvest Home arrangements were made as usual, with a jumble sale in October and Maypoles to Mistletoe scheduled for the following January with Trigg, a Ladies team plus the Rapper Team.
Workshops rather than ceilidhs were to be investigated; the Christmas Ceilidh went ahead as a 'Tramps Ball'
1980
January's Maypoles to Mistletoe hadn't attracted the audience hoped for (the event was put on again by the club some 30 plus years later at Roche Victory Hall in December 2013)
Guests: Tom McConville, Packie Byrne & Bonnie Shaltean, Johnny Handle, Sean Cannon, Mike Mann, Webbs Wonders & Taffy Thomas, Martin Carthy, Frankie Armstrong, Graham and Eileen Pratt, Bill Caddick, Dave Burland, Dick Gaughan, Vin Garbutt, Colin Thompson, John Foreman, Strawhead, Alex Atterson, Tundra, Martin Wydham-Read, Jim Mageean, Hollinmoor, Peter Bond, Roger Watson, Martin Simpson, Jez Lowe, Nic Jones, Peter Bellamy
During the 1980 AGM, Lar Cann expressed his feeling that there were several 'undesirable elements' creeping into evenings from the local singers which were detrimental to the constitution of the club. These were music hall songs and music which wasn't British or British oriented e.g. Cajun. If this continued the name should be changed to Bodmin Folk Club. It was agreed that the Working Party should look at the whether to leave the traditional out of the clubs title, in view of the material be performed.
Vic Legg continued as Chairman, with Lar Cann tendering his resignation through the pressures of work and Elke resigning as Accommodation Officer. Jeanie Blayney and Mary took up joint Secretary posts, with Alison as the new Accommodation Officer.
Barry Lister invited the club to visit Exeter Folk Club which was set for May subject to enough interest – 37 were on Mary's list.
The Ceilidh Group disbanded.
An MC rota was established.
The Committee decided to keep 'traditional' in the name, and the Club Rules were amended with a start time of 8.15 rather than 8.00.
Trigg Morris had had a poor season due to the bad weather. They had been approached to do a tour of Germany in 1971.
Harvest Home was arranged as usual for October with hot potatoes and Vic Legg as auctioneer.
Christmas party – Jeanie suggested red candles and perhaps table decorations with the Morris Men to dancing as in previous years.
Restormel Borough Council Arts Week – Chris Ridley had been consulted on a possible folk event at the end of May 1981 and a Ceilidh on the Friday was planned. It was agreed that the Club should close so that people could go.
Harvest home made a net profit of £80, and in view of Tommy Morrisey's generosity with crabs it was decided to send a large retirement card to him from the club.
Dick Gaughan's – summit meeting was on the cards, with an article in Acoustic Music: Vic had sent a reply on behalf of the Club, and the event was anticipated in February 1981, probably at Cecil Sharp House.
1981
Guests: Mike Mann, Alistair Anderson, Lynne Heraud & Sue Ashley, Sean Cannon, Bob Cann, Pete & Chris Coe, Tom McConville, Kieran Halpin, Jon Strong (?), Geoff Lakeman, Tim Laycock, Gerry Hallom, Peta Webb & Alison McMorland, Dave Burland, Ron Taylor & Sue Edwards, Mick Doonan & Tony Wilson, Jim Eldon, Dick Gaughan, Tony Hall, White Cockade, Silver, Dick & Sue Miles, Taffy Thomas & Gail Williams, Bob Roberts, Cilla Fisher & Artie Tresize, Tony Rose, , Charley Yarwood, Cyril Tawney, Jez Lowe, Martin Simpson, Barry Skinner, Carthy, Kirkpatrick & Evans, Martyn Wyndham -Read
A new organisation was proposed with a regional set-up following the Dick Gaughan summit, with Tony Rose as the SW rep.
At the AGM, the Club funds stood at £699. 24; there had been no return visit from Exeter Folk Club and 7 new names had appeared at the club over the year. Elke and Lar Cann and Chris & Jan Ridley were made Honorary Members and would be exempt from all charges for club functions. Roger offered use of 10 Hagavor Rd for a garden party, and the 15th Anniversary was under discussion.
In the June Committee Meeting, an Arthritis Care evening on 25th August was under discussion, and by September, the Club was being mentioned each week on Plymouth Sound radio, £100 had been raised at the garden party, there were badges and t-shirts (Owain had done the logo, and the t-shirts were sold at £3), and Roger and Carole Hancock were made Honorary Members.
A visit to Plymouth Folk Club was on the cards, and advance tickets at £2 for Kirkpatrick, Carthy & Evans, with John Pearn the journalist agreeing to provide amplification for Martin, in answer to the request from Ian Anderson.
By November, a Trigg Morris tour of the Channel islands was under discussion, and Vic was to organise a pass-the-parcel for the Christmas Party. The Songwainers were booked for the 15th Anniversary, a summer festival at Trago Stadium was discussed, and a trip to the Northcott Theatre to see Lark Rise was discussed.
1982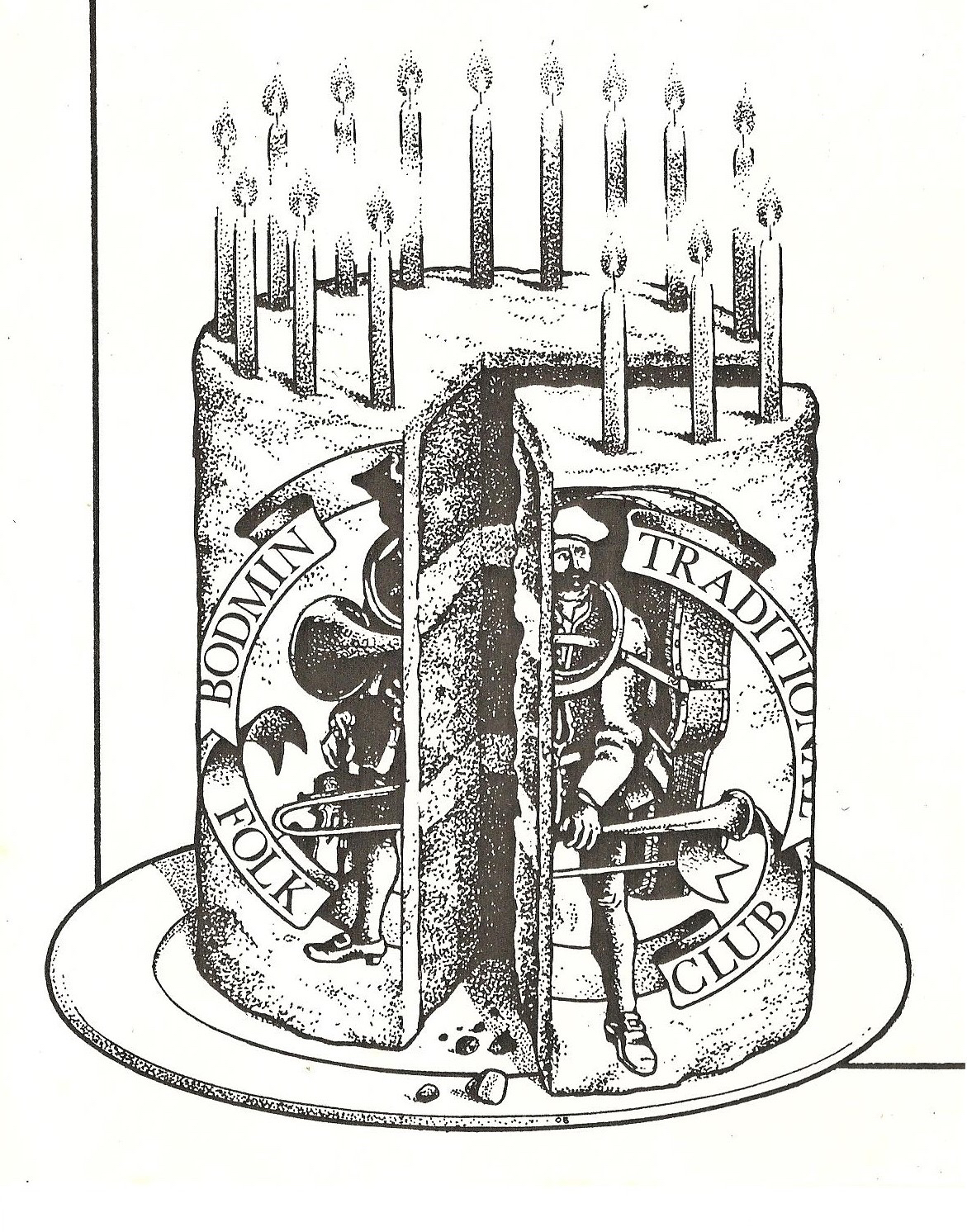 Guests: Steve Turner, Robin Dransfield, Roaring Jelly, Nic Jones, Peter Bellamy, Tom McConville & Kieran Halpin, Dockyard & Warships, Paul Metsers, Crows, Webb's Wonders, Pete & Chris Coe, Dave Burland, Sean Cannon, Songwainers, Leonard & Squire, Sara Grey & Eilie Ellis, Colin Thompson, Ron Taylor & Sue Edwards, Gerry Hallom, Dick & Sue Miles, Hollinmor, Tony Hall, Tom & Barbara Brown, Bob Fox, Johnny Handle, Tim Laycock, Martyn Wyndham- Read, Gary & Vera Aspey, Joe & Antoinette McKenna, Proper Little Madams
Following Nic Jones' accident on the 28th Feb 1982, the Committee agreed that Friday 12th March would be a benefit for him. Nic was a regular at the club up until his life changing car accident, and he returned as a member of the audience for the 40th Anniversary Concert at the Barley Sheaf, returning to sing in Cornwall at the 2012 Cornwall Folk Festival.
In April, Trigg Morris were dancing in the matinee performance of "Everlasting Circle', and were over on Jersey in May.
During the AGM, Chairman Vic Legg declared
". . . I'm proud to be a member of the club with such a high standard of local artists, and despite poor attendances the club was having some super evenings."
Sadly, in spite of much fund raising activity, the club had made a loss. Membership fees were increased to £2.50, with door prices remaining at 80p and £1.20. The new landlord Jim Berks, proposed an increase in rent.
By July, finances were precarious, and an emergency Committee Meeting decided to cancel the weekly Guardian advert (£5), and hold a ceilidh, if possible, with Alison checking on availability at Wadebridge Town Hall, and Jeannie approaching Trim Rig. Open Houses would be charged at 50p per head, and a message out to members who have not renewed their memberships over the last 2 years.
In August, Christopher Ridley offered his services as Publicity Officer to the Club, and although Vic Legg "oozes atmosphere" he would not be persuaded to MC every week. It was concluded that less guests, and more well known names were needed, with streamlining on timings.
The question of whether to drop the 'traditional' from the club title should be made to attract a wider audience was raised by Vic Legg at an open meeting in October. Those present felt this was not a good idea..
1983
Guests: Gill Burns, Mike Mann, Chris Foster, Sam Stephens & Anne Lennox-Martin, Dockyard & Warship, Paul Metsers, Tom McConville, Martin Carthy, John Kirkpatrick, Peter Bellamy, Strawhead, Steve Turner, Tish Stubbs & Sam Richards, Sara Grey & Ellie Ellis, Nic Dow, Ben Campbell, Cyril Tawney, Vin Garbutt, Gerry Hallom, Tony Rose, Shegui, Martyn Wyndham-Read, Jim Eldon, Jez Lowe & Jake Walton, Roaring Jelly, , Alistair Anderson
In January, it was decided to revive the system of of allowing visitors from other clubs in the area, who could produce a current membership card entry at Bodmin prices. Publicity . . . it was felt imperative to exploit Radio Cornwall fully . . . and fund raising ventures that had been poorly supported – craft sale and garden parties – were dropped.
By the AGM it was clear that the Club could not continue beyond 1983 without a lot more regular support, and someone apart from the committee members undertaking fundraising.
Bank balance was at £596 -86, with profits from fundraising at £586-55.
Finally it was agreed to change the name to Bodmin Folk Club.
In July, there were 58 members with an increase in income; Steve Hall of Radio Cornwall was hoping to do a recording at the club, and car stickers were ordered. A new landlord was expected at the end of October, and the funds were at their highest point ever known!
1984
Guests: Chucklefoot, Tony Hall, Bernard Wrigley, Dick Miles, New Mosaic, Dab Hand, Cilla Fisher & Artie Trezise, John Kirkpatrick, Gypsy Kiss, Tom Gilfellon, Colin Thompson, Len Graham, Rae Fisher, Mike Mann, Cathie O'Sullivan, Gill Burns, Jane Rothfield & Allan Carr, English Tapestry, Vic Shepherd & John Bowden, Steve Hall, Pete Coe, Eric, Carole & Anthony Robb, Shegui (Tom Smith (lead vocals, acoustic guitar, mandola, mandolin); George Faux (fiddles, viola, mandolin, mandola, vocal, acoustic and electric guitars); Brian Brookes (Oberheim OBXa synthesiser, electric pianos, bouzouki, acoustic guitar, whistle, vocal); John Skelton (flutes, whistles, bombarde, Overton Loc C whistle, bodhran), Dave Burland, Dave Swarbrick & Simon Nicol
During the AGM it was reported that Steve Hall of Radio Cornwall had interviewed Vic Legg, Alison Cock and Chris Ridley, and was using Bodmin for a recording session 'this week'.
Discussions on visiting Milton Coombe Folk Club were discussed in July . . . and dayglo car stickers were not considered appropriate.
1985
Guests: Steve Turner, Peter Bellamy, Frets, Tony Rose, Dab Hand, John Kirkpatrick, Rae Fisher, Pete Coe, Dave Swarbrick & Simon Nicol, Peter Bellamy, Tony Rose, Dick Gaughan, Paul Downes, Martin Carthy, Kipper Family, Jez Lowe and Jake Walton, Oyster Band, Mike O Connor & Dave Thomas
The year that putting up photographs was liked by Lar Cann, although the club should really pay for proper frames.
1986
Guests: Johnny Coppin, Bob Fox & Stu Luckley, Blowzabella, Maire Ni Chathnassagh, Cockersdale, Vin Garbutt, Tony Hall, Robin Dransfield, Andy Irvine, Bob Cann,
Torquay Folk Club visited in March, with hot potatoes laid on at Vic's suggestion.
Mary felt the club was getting a reputation as a noisy club because of the banter from the audience…
Monies raised at Bodmin Riding the club and the NSPCC were now joint owners of a candy floss machine…..(later noted as a waste of time and effort)
1987
Guests included: Whippersnapper, Martin Carthy, Peter Bellamy, Janet Russell, Swan Arcade
Dave Blayney elected Chairman
Concern was raised about the state of the club room at the Garland Ox: dirty toilets, drunks from top bar wandering down . . . a change of venue discussed.
1988
Guests: Tim Laycock, Kathryn Tickell, Fred Jordan (April 15th) Chris Wood, Brian Peters, Kelly Quarry Blasters, Slim Panatella & The Mellow Virginians
A barbecue held at the Castle Lostwithiel on the invitation of Lord David Franklin.
1989
Guests: Les Barker, Chris Foster, Bob Fox, Tony Rose, Ian Petrie, Donal Maguire, Graham & Eileen Pratt, Peter Bellamy, Blowzabella, The Kippers, Nick Pickett, Dick Gaughan
The 21st Birthday Celebration with Martin Carthy, Watersons, Tom McConville, Chucklefoot was held on June 24th at the Public Rooms, Bodmin; all day ticket £4, non members £5, evening only £2.50
1990
Guests: Martin Carthy, Eddie Upton, Taffy Thomas, Duck Baker, Artisan, Mike Silver, Roy Harris, Gil & Martin Alcock, George Faux,
During the AGM, Sue, Vic and Lar were appalled at the state of the Club Room and agreed to paint it magnolia.
The Club moves to the Pencaran, precipitated due to lack of a bar. Vic tried to find out the position from the landlady and was given a fictitious address for a Courage Area manager. Two weeks notice was given but on the 2nd week the Club was told that the Garland Ox was closed. An evening was held on the patio outside the Pencaran on the hottest day of the year.
In September it was agreed to purchase a small PA, with laying out of chairs carried out by Vic with help from whoever is around . . . much like 2018 if volunteers are a bit late arriving! There was to be on Harvest Festival this year, a visit was made to Stratton and an invite sent to Padstow Folk Club.
Sadly there was a bit of an incident between a couple of members at the Andy Irvine guest night, which was deeply regretted.
1991
Guests: Andy Irvine, Tony Rose, Troika, Louis Killen, Debbie McClatchey, Makuirag, Wizz Jones, Chris Wood, Jez Lowe, Dave Burland , Peter Bellamy, Rory McLeod, Anne Briggs, Al O'Donnell,
At the AGM it was decided that there needed to be a better way of hanging up the photos which are now of historical importance . . .
1992
Guests: Martin Carthy, John Kirkpatrick, ,Vin Garbutt, Old Rope String Band, Harvey Andrews, Johnny Handle Richard Grainger, Chris Wood & Andy Cutting, The Lakemans.,
1993
Guests: Ray Fisher, June Tabor (at Shire House) Ian Bruce, John Kirkpatrick, Damien Barber, Artisan, Sid Kipper, Martin Curtis, Jeff Warner & Jeff Davis, Any Old Time, Whippersnapper, Calennig,
Roy Bailey, Old Rope String Band, Pete Coe, Dave Swarbrick, Rum & Shrub, The Other Band
25th Anniversary was held on the 26th February with Martin Carthy and Norma & Eliza Waterson
Lar Cann stood down as Booking Secretary, with John Sedgewick co-opted and taking over duties, and Mike Freemantle ably assisting.
The Club moved to the old prison in September – the room shape had been an issue with the old venue.
1994
Guests: Whippersnapper, Jink's Stack, Chucklefoot, Tony Rose, Dave Webber & Annie Fentiman Martyn Wyndham -Read, Bob Fox Sara Grey….
Theme evenings agreed including: Robbie Tatlow (ships in bottles) – John The Fish (Clog Making)
1995
Guests: Jug Band, Jez Lowe, Bill Caddick, Steel Bunny, Wizz Jones, Jerry Epstein, Clan McPeake, Bram Taylor, Old Rope String Band, Franke Harte & Maighread Ni Dhomhnaill, Leon Rosselson, Ray & Cilla Fisher, .
An inventory of club possessions was made including one Christmas tree . . .
During the 28th AGM, Jim Bassett felt that the standard of floor singing was the worst he'd heard in 15 yrs and people should not use the club room as a rehearsal space . . . a general discussion ensued falling into two camps. The Constitution was finally adopted.
1996
Guests: Barry Dransfield, Vin Garbutt (along with the BBC visit in February) Coope Boyes & Simpson, Steve Tilston, Les Barker, Cyril Tawney, Harvey Andrews, Dangerous Curves, Debbie McClatchey, John Kirlpatrick, Jeff Warner, Fred Wedlock
Thanks were extended to Kay for her Christmas cake.
1997
Guests: Bill Caddick, Tom McConville & Pauline Cato, Chris Wood & Andy Cutting, Norma Waterson & Eliza, Wizz Jones, Ben Campbell, Steve Tilston & Maggie Boyle, Kate Rusby, Martin Carthy, Tony Hall
Notice was given to the Club to leave the old jail within 2 months, and so a return to the Garland Ox was agreed.
PA was sold.
Lar began to produce a new logo . . .
1998
Guests: Vin Garbutt, Val & Graham Lobb, Pete Coe, Artisan, Voice Squad, Brian Peters, Tom Lewis, Dick Gaughan, Johnn Coppin, Paul Downes, Roy Bailey
30th Birthday concert on June 6th with John Kirkpatrick, Ray & Cilla Fisher, Tom McConville & Pauline Cato
Alas Lar didn't meet the deadline for the new logo so the Club reverted to the old logo of 'Mad Jim Crow'.
1999
Guests: Cockersdale, Pete Coe, Ray Fisher, Norma Waterson & Martin Carthy, Cyril tawney, Chris Coe, Judy Cook, John Conolly, Johnson Girls, Tony Rose, Chris Foster, Dartmoor Devils, Tim Van Eyken Graham O'Callaghan,Pete Harris & Mick Ryan, Dave Webber Annie Fentiman, Cornwall Songwriter, Sarah Morgan, Louis Killen, Bob Fox, Alan Burton and Steve Hunt, Gordon Tyrrell Leon Rossleson Les Barker, Chris Sherburn and Denny Bartley, Debbie McClatchey, Isla St Clair, Pat Kilbride, Sid Kipper, Damien Barber, Belshazzars Feast,
During the AGM, Vic said
". . . we have seen many changes . . . the wax and wane of folk music, the LP superseded by magnetic tape and the CD . . . and now we have the internet to contend with. Of singers and musicians we have been around to see the passing of the old guard as in Charlie Bate, Tommy Morrissey, Brenda Wotton, Bob Cann, Mervyn Vinent & Charlie Jose . . . "
An extra night was held on the 31st Dec 1999 to see in the new millennium.
Jim Basset took over guest bookings.
Club website was up and running, thanks to Bob Mann.
2001
Guests: Gina Le Faux, Carolyn Robson, The Wilsons, Clive Carroll, Roy Harris, Tom Lewis, Cyril Tawney, Roy Cllinging, Dearman, Gammon Harrison, Johnson Girl, Mary Humphries & Anahatta, Keith Kendrick Lynne Herald, Archie Fisher, Donal McGuire, Johnny Silvo…
2002
Guests: Kate Lissauer, Hearts Of Oak, Martin Norma & Chri Parkinson, Leon Rosselson, Steve Jordan, Sandra Kerr, Ingrid & Barrie Temple, James Fagan & Nancy Kerr,
2003
Guests: Kathryn Roberts & Sean Lakeman, Cyril Tawney, Mike Nicholson, Bob Davenport Big Band, Jane & Amanda Threlfall with Martin Ellison & Roger Edwards (first gig attending for Malc Pinch!) Mick Ryan & Pete Harris, Ken Perlman, Aileen Carr, Carolyn Robson, Gamon Dearman & Harrison, Donal Maguire, Nick Hennessey, Moira Craig, Ed Rennie, Grace Notes, Peta Webb & Ken Hall,
Fish on Folk was axed by the BBC.
2004
Guests: Johnny Collins, Alistair Brown, Solan, Dalla, Louis Killen, Debra Cowan, Colum Sands, Martin and Eliza Carthy, Dave Arthur, Jeff Warner, Gordon Tyrell, Cockersdale, Jim Causley, Johnson Gils Robb Johnson, Songwainers, Tom Bliss & Tom Napper, Stanley Accrington,
2005
Guests:Andy Clarke, Steve Jordan, Moor Music, Tony Cox & Steve Newman, Judy Cook, Stringwhistle, Wizz Jones, John Spiers & Jon Boden, Frankie Armstrong, Les Barker, Chris Foster & Bara Grimsdottir, Tim Van Eyken, Mike Waterson & Louis Killen, Cornwall Songwriters: Unsung Heroes, Martyn Wyndham -Read, Jez Lowe & The Bad Pennies,
Problems with amplified music in the bar at the Garland Ox . . .
Steve Hunt was elected as Secretary at the AGM.
On November 18th, 2004, songs for a Roger Bryant solo album and an album of the folk club's members was recorded live at the Garland Ox.
2006
Guests: Jackie Oates & Ed Rennie, William Pint & Felicity Dale, Alan Burke, In Giles, Graham Metcalf & Ian Woods, George Papavgeris, Vivky Swann & Johnny Dyer, Mike Siver, Mick Ryan & Pete Harris, Useless Annie & Graham Pratt, John Kirkpatrick, Craig Morgan Robson
2007
Guests: Stanley Accrington, Maggie Boyle, The Claque, Jeff Warner, James Fagan & Nancy Kerr, Buffalo Gals, Vin Garbutt, Steve Tilston, Barron Brady, Dick Gaughan, Martin Wyndham- Read, Dalla,
Club moves upstairs to the Barley Sheaf.
2008
Guests: Dalla, Cherrington & Ward, Andy Clarke, Linde Nijland & Bert Ridderbos, Maggie Boyle & Gordon Tyrrell, The Claque, 40th Anniversary Concert – The New Scorpion Band, Bob Fox, Frances Watt, Vin Garbutt, Eileen McGann & David K, Pete Grassby, His Worship & the Pig, Jez Lowe
2009
Guests: Feague, Bella Hardy, Steve Turner, The Askew Sisters, The Wilsons, Dearman/Harrison, Zoe Mulford, Nathan Rogers, Tinkerscuss, Kevin & Ellen Mitchell, Jerry Epstein & Ralph Bodington, Richard Grainger & Chris Parkinson, Fraser Sisters, Mike Nicholson, Pete Coe, Tom McConville & David Newey, Martyn Wyndham-Read, Clive Carroll
2010
Guests: Carrivick Sisters, Mike Wilson & Damien Barber, Katriona Gilmore & Jamie Roberts, Will Kaufmann, Gren Bartley & Tom Kitching, Debby McClatchy, Tony Hall, Strawhead, Wendy Arrowsmith, Jerry O'Reilly, Craig;Morgan;Robson, Reg Meuross, Ian Bruce, Sara Grey & Kieran Means, Pete Morton, Maggie Boyle & Chris Parkinson – The Magical Christmas Tree, Jim Crawford
2011
Guests: Unstrung Heroes, The Claque, Ewan McClennnan, Alistair Brown, Bill Murray & Dave Denford, Linde Nijland & Bert Ridderbos, Judy Cook, Les Barker, Dave Webber & Anni Fentiman, Jeff Warner, Nancy Kerr & James Fagan, Trio Threlfall, Bob Fox, Bryony, Wizz Jones, Patricia Flynn, Dana & Susan Robinson, Eileen McGann & David K, Barron Brady, Len Graham, Sylvia Barnes & Sandy Stanage, Pilgrim's Way, Dan McKinnon, Chris Foster, Alistair Anderson, John Waltham & Helen English
2012
Guests: Gumbo Flyers, Jacki Oates & Karen Tweed, Jeff Davis, Pete Coe, Steve Turner, Askew Sisters, Reg Meuross, Alison McMorland & Geordie McIntyre, Bonnie & Dan Milner, Vicki Swan & Jonny Dyer, Dick Miles, Nick Hennessey, Wendy Arrowsmith, Gren Bartley, Keith Kendrick & Sylvia Needham, Tom McConville & David Newey, Jerry Epstein & Ralph Bodington, Vin Garbutt, Clive Carroll, New Scorpion Band, Brian Peters, Martyn Wyndham-Read
2013
Guests: Jim Causley, Kathryn Roberts & Sean Lakeman, Mick Ryan & Paul Downes, Ruth & Sadie Price, Grace Notes, Andrew McKay & Carole Etherton, Damien Barber & Mike Wilson, John Watterson (Fake Thackray), Dalla, Lady Maisery (Hannah James, Hazel Askew & Rowan Rheingans), Colum Sands, Lester Simpson, GU4 (Guffaw), Pete Wood, Notts Alliance, Jim Bainbridge, Tom Lewis, The Young 'Uns, A Bit of the Other (Mike Smith & Barrie Jarvis), Martyn Wyndham-Read, Maypoles to Mistletoe (the return of!)
Club moves to Syd's Bar in May.
2014
Guests: Richard Trethewey & Steve Hunt, Dan McKinnon, Ewan McClennnan, Blyde Lasses (Frances Wilkins & Claire White), Judy Cook, Pete Morton, Lynn Heraud & Pat Turner, Ian Bruce & Ian Walker, Eileen McGann & David K, Donal Maguire, Pete Coe & Alice Jones, Sandy Brechin & Ewan Wilkinson, Stanley Accrington, Daniel Nestlerode, Zoe Mulford, James Findlay, John Emil, James Hickman & Dan Cassidy, The Claque, Jody Kruskal, Rum & Shrub
Club moved to the BCA rooms, using both the smaller committee room and the larger basement space.
2015
Guests: Geoff Lakeman, Greg Hancock, Alistair Brown & Pete Wray, Jake Walton, Jeff Warner, Tom McConville, Mary Humphreys & Anahata, The Askew Sisters, Bob Fox, Notts Alliance, Gumbo Flyers, Archie Fisher, Martin Curtis, Wizz Jones, Peter & Barbara Snape, Debbie McClatchy, Union Jill, Anthony John Clarke, Dick Miles, Greg Russell & Lukas Drinkwater, The Mighty Quinns (Dan & Matt), Appaloosas
Club Moves to Bodmin Band Club as those fears of falling numbers hit home again.
Facebook, twitter, and a revamped website emerged to promote the club, with shared responsibilities for Facebook posts between Malcolm Pinch and Steve Hunt, and Carmen Hunt manning the tweet decks and the website.
Bodmin Town Band joined us for a few carols at our annual Christmas Party.
2016
Guests: Tom Dale, Gill & Bob Berry, Gavin Davenport & Tom Kitching, Steve Turner, Thomas McCarthy, Cath & Phil Tyler, Sara McQuaid, Saul Rose & James Delarre, Lucy Ward, Ben Campbell, Laura Smyth & Ted Kemp, Ian Bruce & Ian Walker, Mike Silver, Robin Dransfield (first gig in many a year!), Anna (Roberts-Gevault) & Elizabeth (Laprelle), Peta Webb & Ken Hall, Brian Peters, John Kirkpatrick, Jimmy Crowley, Kate (Fletcher) & Corwen (ap Broch), The Dovetail Trio, Jim Causley
We were delighted to welcome Bodmin Town Band back for a few carols at the annual Christmas Party for a second year!
Chris Ridley announced his retirement from running Folk News Kernow after 45 years!
2017
Guests: Katie Kirk & Rick Williams, Paul Downes, Foxes Fair, Ollie King, Judy Cook, Alasdair Roberts, Geoff Lakeman, Tom McConnville, Jess & Richard Arrowsmith, Mark Dowding, Kevin & Ellen Mitchell, Bob Fox, Maggie Holland, Gemma Khawaja, Martin Carthy, Jeff Warner, Mark T, Kitty Macfarlane, Diabel Cissokho, Jason Steel, Robb Johnson, Sharron Kraus & Nancy Wallace
Bodmin Town Band joined us for a third year at our annual Christmas Party.
2018
Guests: Si Barron, The Carrivick Sisters, Laura Smyth & Ted Kemp, Rachel Newton, Sara Grey and Kieron Means, Ian A. Anderson, Zoe Mulford & Tom Kitching, Rosie Hood & Lucy Huzzard, Pete Coe, Nick Dow (with a couple of spots from Mally), Rob Murch & Michelle Holding, Mike & Solveig, Sandra Kerr, Cohen Braithwaite Kilcoyne, You Are Wolf (aka Kerry Andrew), Ye Vagabonds, Thomas McCarthy, Jody Kruskal, Brown Boots, Andy Clarke & Bruce Millar, Keith Kendrick & Sylvia Needham.
In January, the Club moved to the St Petroc's Parish Centre opposite St Petroc's church, a BYOB venue with tea/coffee + biscuits.
Our 50th Anniversary Celebrations at Wadebridge Town Hall (the closest venue with a good size capacity) featured Lankum, Nancy Kerr & James Fagan, Tom Dale, Viv Legg, Rum & Shrub, Geoff Lakeman, Sue Franklin & Tim Brine and Baldrick's Plan at Wadebridge Town Hall.
"I wish to pay sincere tribute and thanks to all who have worked behind the scenes to make our Folk Club a success.

To all the Chairmen. The Club Secretaries. The Hon. Treasurers. The Publicity People. The Accommodation Arrangers and Providers. The folk who set up the room, and the tea-mashers.

Clubs don't function properly without them. They have all freely given their time, unconditionally, and we owe them a great debt of gratitude."

Vic Legg @ #BodminFolk50 celebration
The Club moved once again in November to The Old Library, home of intoBodmin, Bodmin's cultural advocacy organisation.
2019
Guests: Baldrick's Plan, Becca Langsford & Vince Lee, Will Finn & Rosie Calvert, Steve Turner, Jon Wilks, Chris Foster & Bára Grimsdóttir, Tom McConville, Matt Quinn & Owen Woods, Linde Nijland & Bert Ridderbos, Krelys (The Old Library 1st Anniversary), The Wilderness Yet, Mishra (Kate Griffin & Ford Collier), Black Eyed Nancy, Tim Eriksen, Jimmy Aldridge & Sid Goldsmith, Mary Humphreys & Anahata, Brian Peters, Damian Barber & Mike Wilson, Bruce Watson, Windjammer, Riley Baugus, Tom Moore & Archie Moss, Ian Bruce
Vic Legg was awarded a Gold Badge from the English Folk Dance and Song Society at Dartmoor Folk Festival.
Charities for the year included Cornwall Blood Bikes and Cornwall Butterfly Conservation.